Making social housing safe – combining electrical compliance and technology
To date, ECS Ltd (Electrical Compliance and Safety) have completed over 120,000 ElCRs for the social housing sector.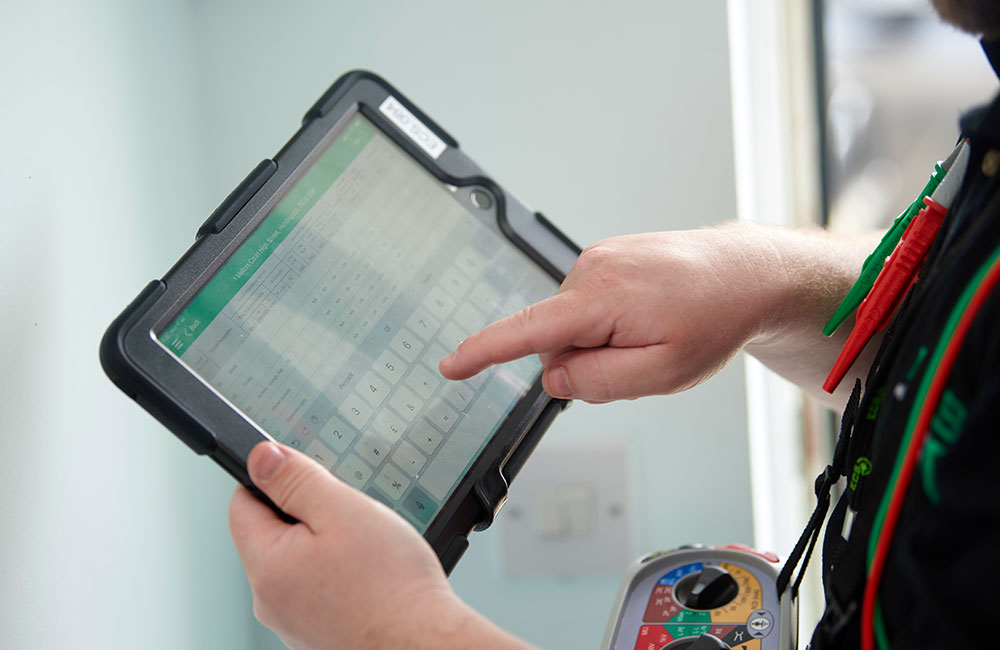 ECS are fully committed to safeguarding residents in their homes throughout the UK, our main business priority is to make people safe.
The purpose of a mandatory Electrical Safety Check (recommended every 5 years), is to find any potential electrical faults that my might be present in a home such as broken sockets, switches, loose wiring etc which could cause an electric shock or may become a fire hazard.
Our engineers carry out thorough visual inspections of the electrical system and then complete a range of rigorous electrical tests to make sure the system is safe.
At the end of the inspection an Electrical Installation Condition Report (EICR) is issued that details what we have tested and any faults that we have found so that the Landlord can arrange for any further repairs required to be carried out.
With over 4 million social housing properties in the UK, that means there is a lot of electrical testing to be carried out.
Housing associations we work for have numerous legislative and compliance objectives to meet when it comes to tenant safety.
We appreciate how difficult managing compliance can be. It isn't just electrical compliance it's also water, gas, fire safety and asbestos that needs to be compliant.
Anyone managing compliance for social housing wants transparent, consistent, robust and accurate inspection processes. They need access to real time compliance and audit information along with budget control.
Our experience in delivering high volume electrical testing programmes has meant that we can demonstrate outstanding knowledge and expertise within the electrical industry.
By clearly understanding the challenges our clients face, we were able to develop a solution that brings together compliance and technology, enabling local housing authorities, landlords and property managers to meet legislation, compliance and safety standards, with minimal disruption and maximum cost efficiency.
The Technology.
Our large team of experienced engineers each carry a tablet that enables them to manage and deliver every stage of an electrical inspection, remedial work and installation from beginning to end because we understand from a client's perspective that getting it right first time is key to demonstrating value for money.
Our bespoke software allows you to collect a fully comprehensive audit trail for every single stage of the process – from booking the initial appointment time to the customer accessing the EICR reports. It was carefully designed to reflect and lead best practice in the electrical safety industry.
Our software records client tailored survey data as well as certification reports and online image capture.
This means that our clients have access to real time reporting, certification and key performance information on the status of all inspections via dedicated portals.
To find out more about the electrical services we provide to the social housing sector, please get in touch with us today info@ecs-group.co.uk or call 01536 650722.