Validating electrical compliance in social housing
Our bespoke software enables us to provide customers with all the evidence and proof they require to easily demonstrate electrical compliance across their housing stock.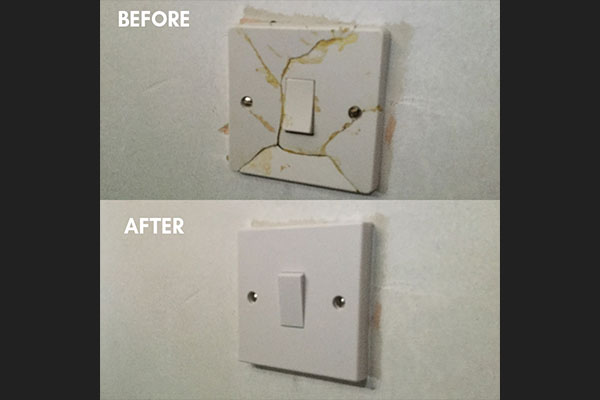 Many housing associations and local councils that we work with have struggled in the past when it comes to gathering evidence for proof of access, testing, inspections and repair works. The challenge of storing and managing all the evidence, has resulted in serious paper trails and mountains of admin.
ECS Ltd are leading the way in high-volume electrical testing and installations in the social housing sector. Bespoke software that we use enables us to provide customers with all the digital evidence and proof they require to easily demonstrate electrical compliance across their housing stock, whilst removing the need for any paperwork.
During the entire process, the bespoke software platform we use, enables us to take and to provide photographic evidence of the following:
ACCESS – one the biggest challenges when it comes to regular electrical testing in social housing, is getting access into the tenant's property. Despite pre-arranged appointments with tenants, we often find that when we arrive a property, no one is there. We always take photos of the front door of the property using our App to prove that we have been to the property. The software we use makes access photos mandatory, and automatically logs times and dates as further evidence.
VISUAL INSPECTION – Engineers use the App to record photographic evidence whilst carrying out the EICR. This could be to report potential electrical safety issues, fire risks and any remedials required. Photos of the consumer unit, earthing and bonding arrangements are mandatory, this assists our qualified supervisors who ensure that every certificate is accurate and helps us single out certain addresses for audit purposes.
LIMITATIONS – If an engineer can't access the fuse board or any of the electrical elements that need testing, they can provide photographic evidence of this using our software platform.
REPAIRS – We can provide 'before and after' photographs of any repairs that are needed/completed during the time our electrical engineers go in and carry out the electrical testing.
INSTALLATIONS – Where new installations are required, we can provide clear photographic evidence of any new electrical installations.
TENANT/CUSTOMER SIGN OFFS – Engineers record a photograph of the tenant sign off form completed before they leave the property, leaving the tenant with the original.
ASSET MANAGEMENT – If required, we can provide bespoke exit surveys to collect data, such as photos of smoke alarms within the property whilst also logging expiry dates. This provides an added value service to housing associations and local councils.
If you would like to find out more, please get in touch with us today on 01536 650722
ECS – Bringing Compliance and Technology Together.